4 Good Reasons To Upgrade Your Bungalow With Smart Motorised Curtains
Bigger homes can benefit from smarter home management systems, and this extends to curtains as well.
Smart Motorised Curtains are basically regular curtains that are fitted with robotic curtain tracks connected to remote controls or mobile apps, which control and/or automate the opening and closing of your curtains. Depending on your budget and lifestyle requirements, you can opt to integrate your Smart Motorised Curtains into a smart home system, a mobile app, a remote control, or a voice-activation like Siri, Alexa, and/or Google Assistant.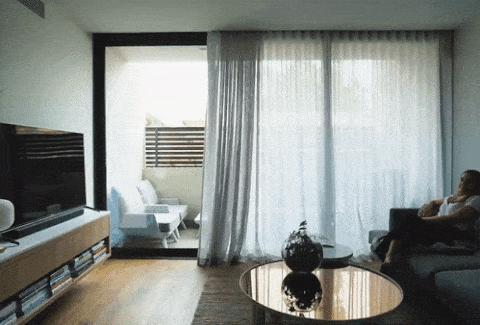 Be greeted by a sleek automated curtain-opening experience each time you arrive home.
Such automations can bring many great benefits, especially for homes with elderlies or people with disabilities. Having said that, here are four (4) good reasons for bungalow owners to install Smart Motorised Curtains at home.
1. Smart Motorised Curtains makes curtain-cleaning chores much easier
Not only are the motorised curtain tracks highly durable (one rod can support curtain weight of up to 50kg!), the tracks can raise and lower the curtains to enable homeowners or housekeepers to easily remove and reattach the curtains when it's time for cleaning or dusting. This feature is especially helpful for homes with curtains that are tall, thick, and heavy – reducing the chances of accidents from handling the curtains and speeding up the work. If you as a bungalow owner are looking for convenience, durability, and safety; this is it.
Motorised curtains are especially useful to have in homes and buildings with full-height windows that extend over 10ft. With its features built for your convenience, taking down your heavy curtains to wash will become less of an intimidating chore to complete.
2. Up-the-ante of your bungalow-living experience
Smart Motorised Curtains offer a feeling of exclusivity and luxury especially for large homes like bungalows. Picture walking into the hall, and the curtains split open right on time to reveal the glorious morning sunrise. Or, imagine being so consumed by work in your home office – and the blinds are raised to show you the city lights at night, signalling you to take a break at the end of a long work day. With Smart Motorised Curtains, you can control your curtains at your fingertips or time them to work according to a schedule. In fact Curtain Library's motorised curtains connect to an easily-integrated smart systems network like Tuya Smart app – downloadable on Google Play Store or iOS App Store. Once you've registered an account and your Smart Motorised Curtains have been set up, you can pair your device to the curtains via Wi-Fi and control your curtains through voice-activation with Siri, Alexa, or Google Assistant.
Curtain Library's motorised curtains connect to smart systems network like Tuya Smart app – downloadable on Google Play Store or iOS App Store, optimizing end-user experience from registration to day-to-day use.
Alternatively, you can opt to connect your motorised curtains to a designated remote controller. Watch the demo to see how we do it.
Bungalows often come with tall and wide windows stretching from one end of the hall to the other – and opening and closing the curtains can be quite a task. Thus, using a remote control can ease your load at home so that you can enjoy a luxurious view in peace.
3. Enhance the security of your bungalow
One of the more challenging aspects of home security when you're on a trip is hiding the fact that your house will be unoccupied for days or weeks, to prevent your home from becoming an easy target for break-ins. Hence, most homeowners tend to leave some lights on inside and outside of the house – but this can be very power-consuming and costly if you had to leave the house for weeks. However, if you have Smart Motorised Curtains installed in every room, your house can appear occupied when the blinds and curtains open and close either at random (remotely controlled) or according to schedule (automated) – all of which are within your control on your mobile app.
Internet-of-Things enables anyone to automate or control remotely WiFi connected motorised curtains from any smartphone or digital device.
Check out local celebrity Chef Zam for his testimonial of our motorised curtains from Curtain Library!
4. Increase the value of your bungalow with a touch of tech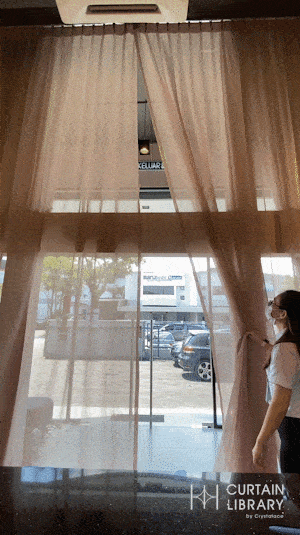 Make a grand entrance with beautifully designed motorised curtains!
Many people underestimate how important curtains are in terms of adding aesthetic value, forgetting that curtains are amongst the first things people see when they enter the house. If your bungalow comes with premium curtains and motorised tracks, your guests and potential buyers will surely be charmed and impressed by the special touch – and this increases the value of your home overall. Impress potential buyers with your bungalow's window treatment, and you will find yourself securing a sale.
---
---
Now that you have considered all four (4) benefits of Smart Motorised Curtains, if you would like to invest in this technology upgrade to enhance your bungalow – contact Curtain Library today to schedule for an appointment to view our range or beautiful textiles, blinds, rods, and motorised tracks! Curtain Library also provides flexible installation options for battery or power-operated motorised curtains, depending on your lifestyle requirements.
Invest and upgrade to a Smart Motorised Curtain today!
---
---
---
---