The Ultimate Curtain Buying Guide
A summary of all our advice and guides for homeowners looking for help in customizing their curtains.
We receive a lot of requests from our customers in need of guidance in helping them to choose the right curtain for their homes and offices. So here's a compilation of buying guides and advice we've written in the past. We've summarised them to help you kickstart your curtain buying adventure.
6 things to keep in mind when buying custom-made curtains.
1. Plan your curtains around your budget and project lead time.
This specifically applies to homeowners who are in the middle of renovating their homes. It's an exciting time to really dream up beautiful rooms that fit your idea of what makes a house, a home. However, many homeowners don't realise that while curtains might be the last thing to go up, planning for them should start just before your plaster ceilings have been put in.
Making sure your curtains actually fit your room is as simple as measuring the size of the windows, the number of windows in your home, and how tall are your ceilings. Keep in mind that the size of your curtains directly affects the amount of fabric you will need and subsequently their overall cost.
---
---
2. Follow our easy-to-follow 3-step curtain measuring guide to get a more accurate estimated cost.
Here's a quick 3-step hack to measure for your curtains. All you need is measuring tape, a pencil, paper, and a friend!
Essentially, to customise your curtains you need to know how big your curtains will actually be. Your curtain consultants or salesperson will work with you to come up with a quote based on these 3 important measurements
---
---
3. Know the type of fabric you want for your curtains.
Picking a suitable curtain fabric is important because you have to take into account how much effort and time you will spend maintaining them. A safe choice for those who aren't too sure what they want is Polyester! The man made fabric is designed to be an easy-to-maintain material that can still have qualities of other fabric types.
The safest and easiest choice you can make for curtain fabric is to go with polyester. This synthetic material is a favorite of modern homes and offices because of how easy to maintain the material is. Polyester is a long-lasting fabric that resists shrinkage and pilling even after being put through the washing machine. On top of that, curtains made of polyester also have anti-mold and anti-wrinkling properties that keep them looking good for longer!
If you have the means to, linen is typically a designer's choice for homes and offices that want an expensive and sophisticated look. While a nice touch to the home, the material does take more care than polyester curtains. That being said, polyester fabric is able to mimic most fabric types of your choosing, so be sure to ask for what you're looking for and you shall receive!
You don't have to pick between your favourite colours and patterns when planning with Curtain Library. Talk to our consultants to find out all about our Helsinki Collection and it's fashion-forward designs!
---
---
4. Pick between blackout or dimout curtains to suit your preferred amount of light you want to stream into the room.
One way you can go about deciding on what fabric you'd like for your curtains is to pick between having dimout curtains or having blackout curtains. Dimout curtains are best used in rooms that don't mind a little natural light streaming in through the fabric, such as study rooms, retail shops, or offices. Blackout curtains are more suitable for rooms that need to get super dark for either sleeping or movie nights, such as in bedrooms, living rooms, or audiovisual rooms.
Blackout curtains give rooms the insulation they need away from heat, outside light, and also sounds! If you want a boost in how comfy your room is, blackout curtains are definitely an addition to your space that you should look into. Blackout curtains are therefore most suitable for rooms that need to be pitch black, such as for bedrooms, living rooms, and audiovisual rooms.
---
---
5. Choose the right curtain headers that set the tone of your curtains.
Curtain headers are the part of the curtains where you place your hooks or rings to hang them on curtain tracks or poles. They directly influence how your curtain hangs in waves or gathers. When a customer comes to us without a specific preference for this part of the customisation, we usually recommend using French pleats as your curtain header. They're the evergreen, traditional header style that works with most room aesthetics while also giving your curtains a full volume.
What's the ideal curtain height, and how to put them up the right way? Here are a few neat tips & tricks brought to you by managing director Benson Ng. Discover more useful curtain tips from us on Youtube, Tiktok, and Instagram.
---
---
French pleat curtains are so versatile that we've used the header style to fit the needs of luxury condos, retail outlet stores, and even hotels. We've used them for curtains that cover regular widows, display areas, double volume windows, and more.
6. Decide on the most suitable curtain track or rod that matches your needs.
Aside from the overall fullness of your curtains, curtain headers also determine the type of track or rod you'll use for the home. Here in Curtain Library, we carry 5 variations to suit the needs of your room.
Our tracks and rods each have special and improved features that make them much better than cheap readymades you find in chain stores. You can read more about the unique features our products carry, here.
Who knew that curtain selection is in fact, a form of art? Here's an introduction on what you need to know to get started – explained by managing director Benson Ng. Find us on Youtube, Tiktok, and Instagram for more.
Unlike cheap readymade tracks and rods, Curtain Library makes sure that whatever we provide to our customers are designed to last. Our WESO Powder Coated Straight Curtain Tracks, for example, are quality-tested to be able to withstand 10,000 opening and closing movements. They also come with a powder aluminum coating that keeps the tracks from rusting, chipping, scratching, and other wear and tear issues, as well as nylon caps that hold the tracks together for longer- and don't get brittle even after sun exposure! They're the most popular tracks that we've used for our past projects.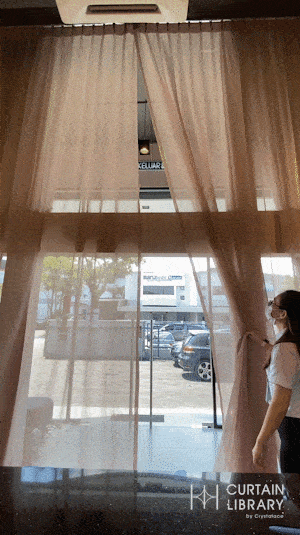 If you really want to bring modern sophistication and elegance into the home, opt for motorised curtain tracks when customising your curtains. Curtain Library provides smart curtain options that are able to support most header styles on top of providing smart features for the home, such as, remote control options, WiFi-enabled tracks, and voice-controlled actions. That means you'll have the option to control your new curtains using a remote control, your mobile device, or even with just your voice!
---
Curtain tracks are what hold up your curtains for your guests to see and appreciate- learn more about them to really figure out what you need with your new curtains!
---
Whether you're a first-time curtain buyer or just in need of an upgrade to your existing curtain sets, Curtain Library's consultants know exactly what you need in your home. We've worked with many homeowners, designers, hotel managers, and business owners to customize bespoke sets that finish the look of their room.
Chat with our team via WhatsApp (+6019-225 3055) or email us your enquiries at enquiries@curtainlibrary.com. You don't have to visit our showroom for a simple consultation on the matter.