Benefits of Motorised Curtains in the Hospitality Industry
Welcome weekend getaways and outstationed business personnel by offering rooms with a personalised touch. Impress guests with the best the industry has to offer.
Here's some good news for Malaysia's hotel and homestay owners, local tourism is helping hotels maintain a 25% occupancy rate during festive seasons while not breaking SOPs. As of April 2021, Tourism Minister Datuk Seri Nancy Shukri has announced that the travel bubble under Malaysia's RMCO has encouraged hotel occupancy to recover between 20% and 30% back in March. This recovery is predicted to get even better once more people in Malaysia have received their vaccines!
And you know what, this is the perfect time to give your guest rooms some sprucing up to better serve guests when they come back. The idea of a smart hotel room has gained popularity in recent years, thanks to their ability to improve a guest's overall experience, as well as deliver a great return on investments. In particular, smart room technology can deliver greater personalisation, improved energy efficiency, swifter repairs, greater convenience and the ability to control devices remotely. In this article, we will explore how having a smart, motorised curtain can actually benefit hotel owners and guests alike.
Here are 5 ways you can bring out the best in your guest rooms with Curtain Library's Motorised Curtains.
1. They give rooms an added customisable feature unique to your hotel.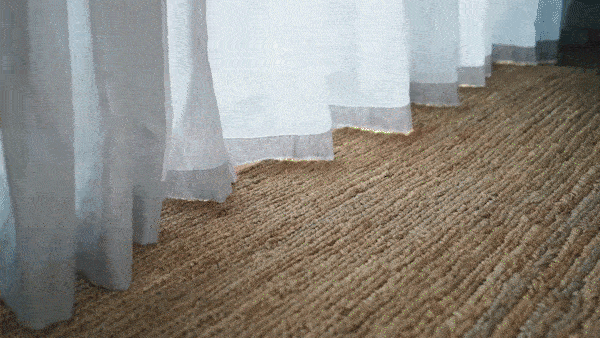 The best types of mornings are ones where you are gently awakened by the first rays of sunshine. Arrange scheduled morning calls with motorised curtains to help guests feel served and waited on- without even being in the room.
Curtains play an important role in giving the space the right look and feel. For instance, sheer curtains allow a room to be filled with soft, natural lighting, while blackout curtains can make a room perfectly darkened for a good night's sleep. Now imagine being able to switch between these two light modes without needing to get up from the bed, using a provided tablet. Sounds like a perfect lazy-day full-relaxation stay, doesn't it? And that's a type of advanced room service your guest rooms can provide- with just the instalment of motorised curtains.
For many guests, their rooms are spaces for ultimate comfort away from business meetings and stress. Motorised curtains allow guests to have greater personalisation for controlling the amount of natural light that enters the room based on their comfort needs. This lets them set up their room to be precisely how they want it, improving their overall enjoyment of the room.
---
---
2. They provide guests with an enhanced customer experience
Your guest rooms can be the complete package for a luxury stay.
Providing guests with a simple smart hotel room interface enhances the stay for a lot of guests. We recommend setting up smart room features in your guest room by using a tablet with a smart systems mobile app installed and connected to your motorised curtains. From there, it will act as a special feature for guests to explore during their stay. To really make an impression, Google Home can also be hooked up to your tablet to give your guests a voice command option too!
3. Remote controlled curtains for hotel staff to set the room for a guest's arrival
Another benefit of having smart curtains in your hotel rooms is that they connect through an Internet of Things (IoT) network. This gives hotel staff complete access to room controls from a remote location. This is especially useful when it comes to getting a hotel room ready for a new guest, improving the level of comfort they are greeted with upon checking in.
It's all about the presentation, there's nothing more exciting than curtains drawing open to invite a guest into the room.
For instance, a smart hotel can set up curtains in a room to automatically open when guests enter the room. This helps managers give the room a grand and welcoming touch when guests arrive and removes the need to send staff members to enter and set up the room before a guest enters the room, saving a lot of time, energy, and effort.
4. You don't have to go through major renovations to upgrade your suites
One big worry hotel-owners have when it comes to giving their rooms an upgrade is that it may take a lot of renovation or time out of the day to get everything set up and ready. This is because of out-dated misconceptions about motorised curtains. Newer models, such as those from Curtain Library's motorised curtain curtains come in easily adjustable, battery-operated  and power-operated tracks.
This option is to more easily cater to the needs of your premise as they come in more easy-to-install tracks. Our modular tracks are able to adapt to any type of window styles. If you are planning on making renovations, we recommend getting Curtain Library's team to come in and install our power-operated systems where we can more efficiently hook up our tracks to your wiring systems and keep them discreet.
Set the mood of ultimate grandeur for your guests with motorised double volume curtains that elegantly glides open and closed, showing off their beautiful, high-end, and luxurious fabric.
If you're not looking for any major changes to your guest rooms, however, we recommend using our battery-operated system. Our discreetly designed curtain hides a removable battery behind your tracks and only turns on when it is being used.
5. Encourage the production of user-generated content by delivering rooms with a 'WOW' factor
You know what, setting up your hotel rooms with motorised curtains can really give guests a reason to talk about your service! At each moment, hundreds if not thousands of guests post up their exclusive hotel experiences on social media platforms like Facebook, Instagram, and so on. You can encourage more user-generated content simply by giving your guests something to talk about. That's getting free publicity right there!
There's nothing like a positive check-in from guests, wow them enough to deserve a spot on their feed!
---
---
What's more, Curtain Library has worked with many world-class and local hotels find that sweet spot of luxury meets comfort living. We've supplied wonderful motorised curtains that jumpstart the smart hotel journey for many and will continue to do so to for the hospitality industry. Get in touch with our team to find out how we can best serve you.
Book an appointment with our consultants today!