4 Tips for Choosing the Right Bedroom Curtains
Curtain Library's golden rules for picking the perfect curtain set for a comfy, personalised bedroom.
Bedrooms are the go-to places for ultimate relaxation. For some, this is found by turning the room into a cold and dark bear cave- fit for a perfect night's rest. For others, it's waking up to soft, natural lighting that greets you each morning. Whether you like it dark or bright, the best way to achieve your desired aesthetic is by fixing up the right bedroom curtains that fit your lighting preferences.
There are only 4 important things you need to consider when customising new bedroom curtains.
1. When choosing your fabric, choose according to your lighting needs.
The first thing you really have to be concerned about is the type of fabric you want for your curtains, in terms of how thick they are. If you're a fan of waking up to a bright room in the morning while keeping your room naturally lit throughout the day, having a set of dimout curtains would be a good choice.
Side-by-side comparison of light passing through non-Blackout fabric and Dimout fabric. The gif above shows light clearly penetrating through the non-Blackout fabric as compared to through Dimout fabric. Dimout fabric is still able to block 90% of light.
However, if you want to have a nice dark room to sleep in, getting blackout curtains might be a better choice. So, one curtain styling choice we suggest our clients make is by mixing up the fabric types, such as customising blackout-with-sheer curtain sets or dimout-with-sheer ones.
The right fabric material helps you achieve perfect bedroom lighting that fit your natural light preferences. We highly recommend homeowners to invest in blackout-with-sheer sets.
---
---
2. Plan your curtains to match your room's theme.
Once you've decided on how your curtains will play with natural light, it's time to pick the colours and patterns that go well with your bedroom walls and furniture. In Curtain Library, we cater to all our client's unique style and preferences with our over 3000 fabric collections.
For bedrooms, we recommend homeowners choose cool colours that help create a calming atmosphere in the bedroom, such as blues or greens. Of course, our role in your customisation experience is only to help guide you through the process. So, it's best to have a proper consultation with our team and arrange for a date to view the curtain fabric when it is possible for you.
When done right, wild-coloured curtains can give your space a refreshing look while still delivering a calming atmosphere.
---
---
3. Choose a simple curtain header.
Another big decision you have to make when customising your curtains is on which header style you'd like them to hang from. The best header style for bedroom curtains are French or double pleats. These header styles create easy-to-maintain curtains that fall in full waves that are easy to gather. Their fullness not only shows off the colour and patterns of your fabric but also gives your room a nice and cozy feeling.
Here's a compilation of everything you need to know about choosing the best curtains to decorate a space – brought to you enthusiastically by managing director Benson Ng. Find us on Youtube, Tiktok, and Instagram for more curtain-related content!
While French pleat and double pleat might look the same, the two header styles creates a much more different wave to the fabric they hold up. The French pleat creates a much more fuller look, while the double pleat creates a more relaxed and casual look.
---
---
4. Consider getting a motorised curtain track!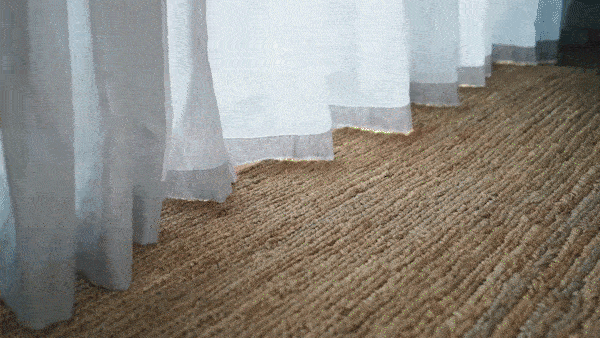 Curtains that gently wake you up in the morning by letting light slowly stream into the room- as scheduled by you. Now that's comfort living at its finest.
If you want to indulge a bit, give your regular curtain tracks an upgrade! Motorised curtains (also known as Smart Curtains) are the controllable, stylish, and modern addition to your home. You can schedule them to open and close as you please on a remote controller or even on an easy-to-use mobile app.
Imagine this, you can set your curtains to close according to how bright or hot the sun is throughout the day, as well as glide slowly open in the morning as it rises. On top of getting a blackout-with-sheer curtain set, you can have a dark bedroom at night and a beautiful naturally-lit morning by just commanding your curtains open with their voice-control option!
---
---
Finding the right bedroom curtains for an Insta-worthy home is easier than you think. Here are our other advice and guides on how you can show off your personal style through interior design.
---
---
All in all, customising the right bedroom curtains can be a fun experience that lets you flex and explore your interior design skills. There's just so much that goes into the customisation process but we recommend you keep in mind these four main things when making your decisions. Namely, pick your curtains based on their thickness, fabric design, and curtain header style- and if to give your home a modern touch, consider upgrading to motorised curtain tracks.
Need help setting up your curtains or want an easy, hassle-free curtain customisation experience? Curtain Library can make that happen for you. Book an appointment, talk to us via Facebook or WhatsApp or email us your enquiries at enquiries@curtainlibrary.com.